2020 is the year of the C-word: Covid, corona, cancelled. These C-words derailed every single aspect of our lives this year. And, if you are among the many who'd found the one and said "I do," this has been a particularly challenging year. I can attest to it having seen all of the weddings I was scheduled to plan, push to later dates.
But, let it be known that: "Love. Is. Not. Canceled."
Now that we have a better understanding of how to modify our behavior in the times of Covid-19, and get back to some semblance of living as we once did, I'm going to expand on a bunch of other C-words to serve as a guide to help you plan your nuptials.
If you are going through with hosting a wedding during Covid, it's crucial you exercise a new level of care for your guests' experience. It's important you share with your guests that you're creating an environment where masks are welcomed, staff wear gloves, guests are seated with others they feel comfortable with, and there's an appropriate distance between other tables and chairs. It's common now to share this information when inviting guests. In order to have a successful wedding, it's important your guests feel comfortable being there.
Even if you feel you've considered every step your guests might need to make them feel safe, it's important to understand these are still sensitive times. While some view the threat of potentially catching coronavirus as similar to getting the flu, others have lost loved ones. Some people have still barely left their homes since sheltering in place in March. Don't take it personally if some of your guests prefer to leave after the ceremony or never take their masks off or not attend at all. We need to be understanding of everyone's comfort level as we live collectively in this era. Consider explaining to your guests why you're going ahead with your wedding and how simply hearing back from guests with their enthusiasm and support is presence enough.
One of the biggest changes to planning events now is the crowd size. Some cities have specific guidelines for the amount of people that are allowed to gather. Even if it's not mandated, big groups are challenging these days unless you have the space for guests to keep their distance from one another. There's a bright side to all of this. Shrinking your guest list is easier than ever! No one will be offended if the reason they didn't make the cut is preventing the spread of Covid-19.
One of the greatest challenges during these times is balancing safety with loneliness. Being restricted from seeing family members or just being able to hug our friends has us all craving connection. There is nothing like the love on display at a wedding that makes the heart smile. While limiting the number of guests in person is highly suggested—and sometimes legally required, the sky is the limit for how many people can attend virtually. Now is an opportunity to include people who might not have made your guest list even in pre-covid times. Send your virtual guests a care package with something they can participate with. Have them send you something in advance that can be with you physically at your wedding.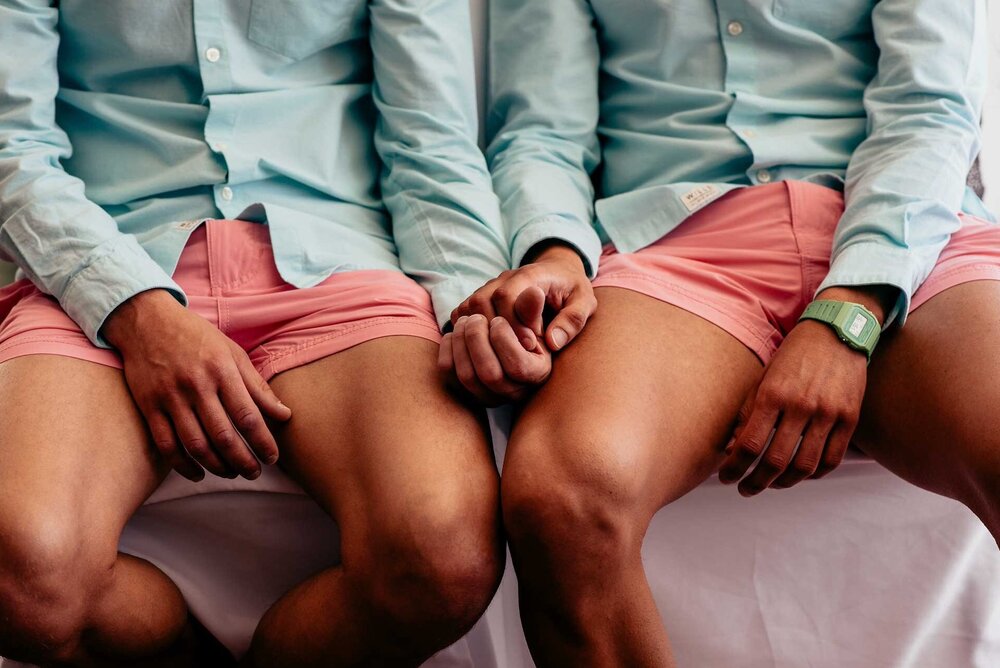 One of the upsides to any challenging moment in life is how it pushes us to innovate. There's no hiding from the fact that we're living through a health crisis or pretending it doesn't exist on the day that you marry. Embrace it and let it inspire you. There are masks that convey what guests might be feeling during different moments of the wedding. There are labels for individual bottles of hand sanitizer that can make us laugh. There are new ways that food and beverage is being served that show off new safety measure with style. Allow your wedding to still be an experience that wows your guests with every detail you thought of.
None of us knew that 2020 was going to turn out the way that it has. Some still make comments about eventually returning to normal. The truth is, there is no return to normal, but redefining what normal is. Once that "new normal" is here, embrace it, flourish with it and get married in it!